March 20, 2020
COVID-19: Resources Available To You
I understand that this is a very uncertain time for our city and our nation. Federal, state, local,  church, and business officials have all been working tirelessly together to get resources in front of the people as soon as possible. Below is a list of immediate resources to look into and take action on now. PLEASE SHARE to help get the word out. Resources are great, but only if people know what is available to them.
CASE COUNT BY COUNTY IN NORTH CAROLINA:
The North Carolina Department of Health and Human Services updates a case count in the state daily and provides an interactive map that monitors case count by county. Check out the most updated info here: https://www.ncdhhs.gov/covid-19-case-count-nc
SYMPTOMS AND SCREENINGS:
If you start to wonder if you need to seek testing for the Coronavirus, here's a useful tool. The CDC has partnered with Apple to release a new screening questionnaire to help you. Check it out:https://www.apple.com/covid19
From NCDHHS: If you feel you are experiencing COVID-19 symptoms, follow CDC guidelines to prevent further spread. Most people who get COVID-19 will recover without needing medical care. The CDC recommends that you stay home if you have mild symptoms, such as fever and cough without shortness of breath or difficulty breathing. Learn more in this NCDHHS fact sheet in English and Spanish.
NCDHHS is working closely with local health departments and health care providers to provide ongoing guidance for when testing is appropriate. This information is changing regularly and will be updated as necessary.
SMALL BUSINESS ASSISTANCE:
Small businesses suffering a substantial economic injury from the Coronavirus (COVID-19) may be eligible to receive low-interest federal disaster loans through the SBA. Specifically, SBA's Economic Injury Disaster Loans offer:
Up to $2 million in assistance to pay fixed debts, payroll, accounts payable and other bills that can't be paid because of the disaster's impact
The interest rate is 3.75% for small businesses and 2.75% for non-profits
SBA offers long-term repayment to keep payments affordable, up to a maximum of 30 years.
Terms are determined case-by-case, based upon borrower's ability to repay
Additional information and available at https://www.sba.gov/page/coronavirus-covid-19-small-business-guidance-loan-resources

CHILDCARE ASSISTANCE: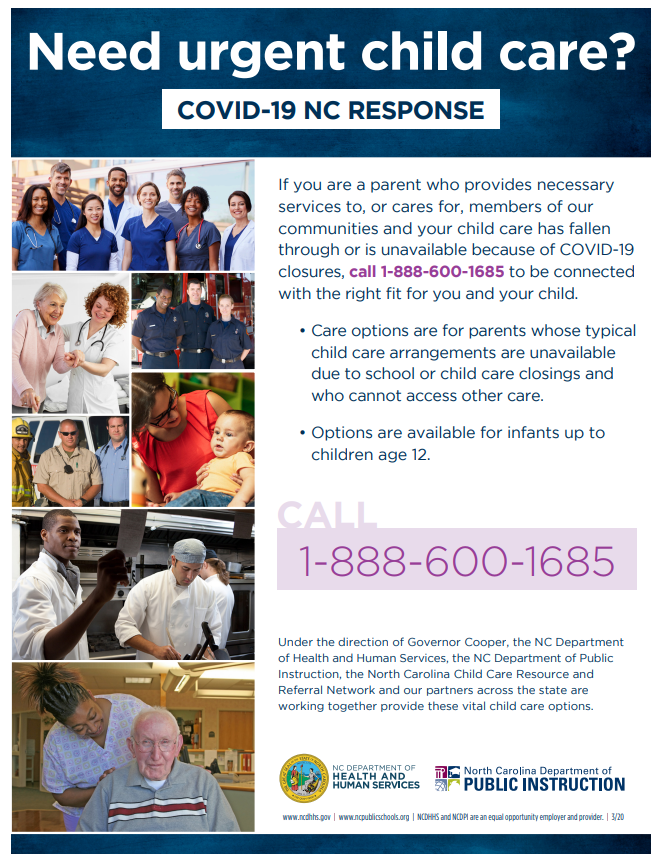 FAMILY MENTAL HEALTH CARE:
Both Yotaron and Progressive are providing teletherapy services and are able to serve new clients with this service.  Their contact information is below. Both agencies can work with students and their family members if needed.  Families can call their numbers directly or go to the website to submit their information:
Yotaron Enrichment and Resource Center
252-916-6048
Progressive Care Services, Inc.
252-985-3216
For emergency mental health assistance:
Mobile Crisis - Integrated Family Services call 866-437-1821 or visit http://www.integratedfamilyservices.net/. These services are available 24/7.
Eastpointe MCO: Edgecombe County Residents call 800-913-6109 or visit http://www.eastpointe.net/. These services are available 24/7.
Trillium MCO: Nash County Residents call 877-685-2415 or visit https://www.trilliumhealthresources.org/. These services are available 24/7.
UNEMPLOYMENT SERVICES:I know these are uncertain times in terms of job security and food for our children while they are out of school. Below are some resources. PLEASE SHARE! The virus is affecting many companies. Many people are unemployed or underemployed. Because of the virus, Governor Cooper has loosed some of the usual requirements for unemployment benefits. Many more people will qualify. Read through this information to learn more and apply for benefits today: https://des.nc.gov/need-help/covid-19-information
STUDENT INTERNET SERVICE:Charter Communications offered free Spectrum internet access for 60 days to students who don't currently use the service.The offer is available to both K-12 and college students. Families who qualify for free Spectrum internet can call 1-844-488-8395 to enroll. FEEDING OUR CHILDREN:
If you need help locating food for your family please text FOODNC to 877-877. Please SHARE this important information to help pass it along.
Without school lunches, we understand it is difficult to make sure everyone is fed at home every day. Nash-Rocky Mount Schools are providing FREE breakfast and lunch to ALL CHILDREN 18 and Under. Monday-Friday 10:30am-1:30pmBaskerville Elementary Hubbard Elementary Rocky Mount Middle Hope Elementary Bailey Elementary Nash Central Middle Swift Creek Elementary Cedar Grove Elementary Benvenue Elementary Williford Elementary Winstead Elementary Nash High Middlesex Elementary DS Johnson Elementary Red Oak Middle School Call 252-462-2491 with questions about NRMS school lunches.
Edgecombe County Schools are serving breakfast and lunch to our students Monday - Friday. Bus routes start at 11:30 a.m. They will deliver lunch, as well as breakfast for the following day.
EDGECOMBE COUNTY MEAL DELIVERY:It is difficult to estimate what time the bus will be at your stop. We encourage parents and students to watch for their bus. We ask parents to please be patient as we work on making this process as efficient as possible.
Remember, any child in Edgecombe County may go to the bus stop closest to their home to get food items for breakfast and lunch. Students will receive lunch, as well as breakfast for the following day. The routes will begin at approximately 11:30 a.m.
There will NOT be separate deliveries for breakfast and lunch. Please also remember, students are able to receive food from any bus - it does not have to be the bus they normally ride.
Meal pick-up is also available at all schools, except Edgecombe Early College.
All students are invited to visit the school closest to them between the hours of 8:00 and 9:30 am for breakfast and 11:30 am and 1:00 pm for lunch.