March 17, 2021
COVID-19: Consider Others While Protecting Yourself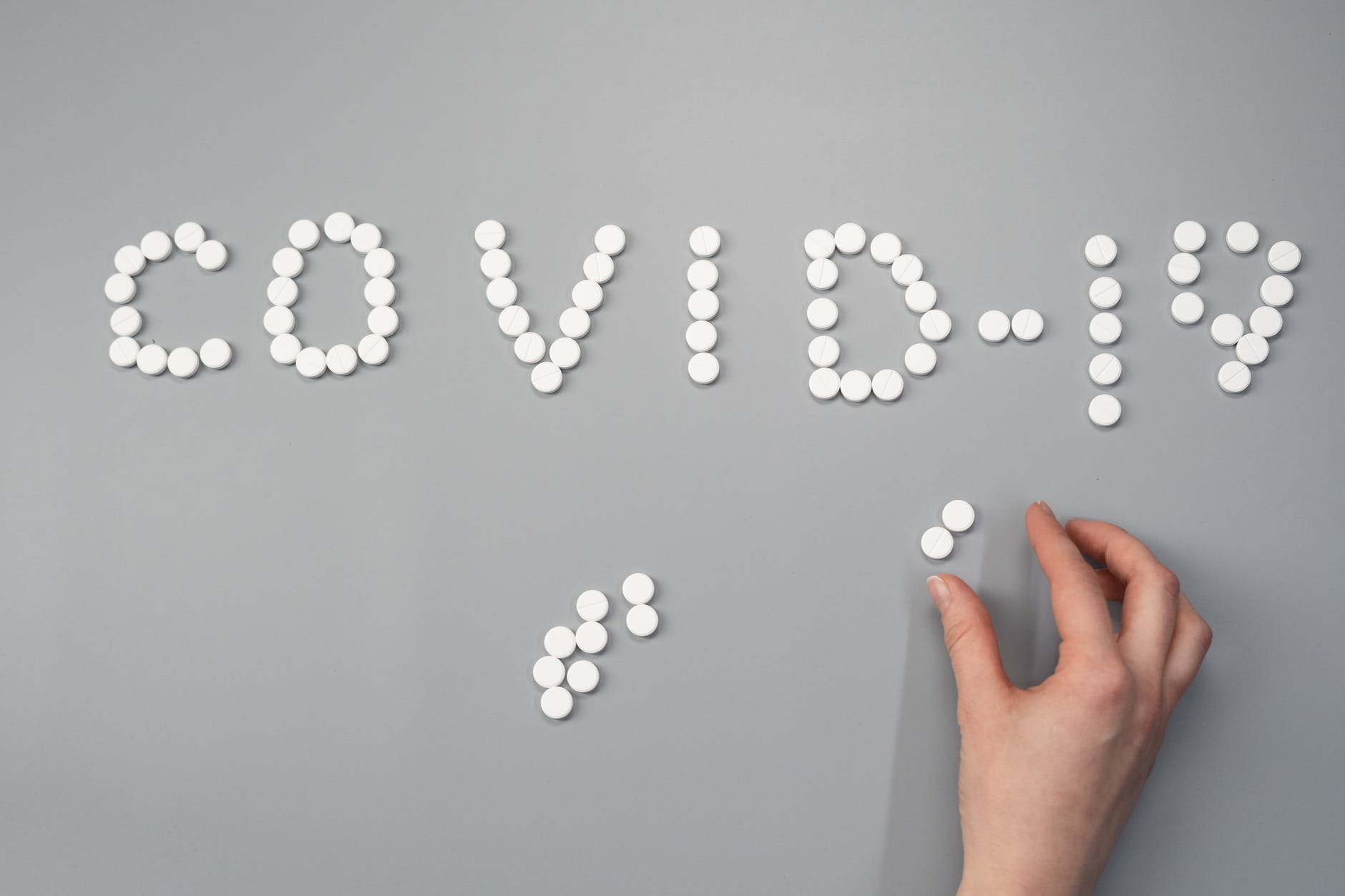 With COVID-19 spreading across North Carolina, it is important that we make responsible decisions to protect ourselves and prevent the spread of disease. It is of equal importance that we come together as a community to help those in need.
The Rocky Mount Telegram has set a great example of this by removing restrictions on viewing the newspaper content during this pandemic emergency. Use this resource to stay informed, and help spread the word.
With all North Carolina public schools closed for two weeks, there will be a large community of those struggling to feed their family. Many of our students rely on the school to provide breakfast and lunch. Below are some organizations gearing up to accommodate those folks. Please SHARE these to connect those in need with the necessary resources.
Peacemakers of Rocky Mount: bag lunches will be available the rest of this week between 11:30 am and 1:00 pm each day for children from South Rocky Mount and surrounding areas that are not able to get to one of the NRMPS feeding sites.
Nash-Rocky Mount Public Schools will be serving meals to ALL children under 18 beginning tomorrow, Wednesday, March 18th from 10:30am to 1:30pm at a few locations. More info here: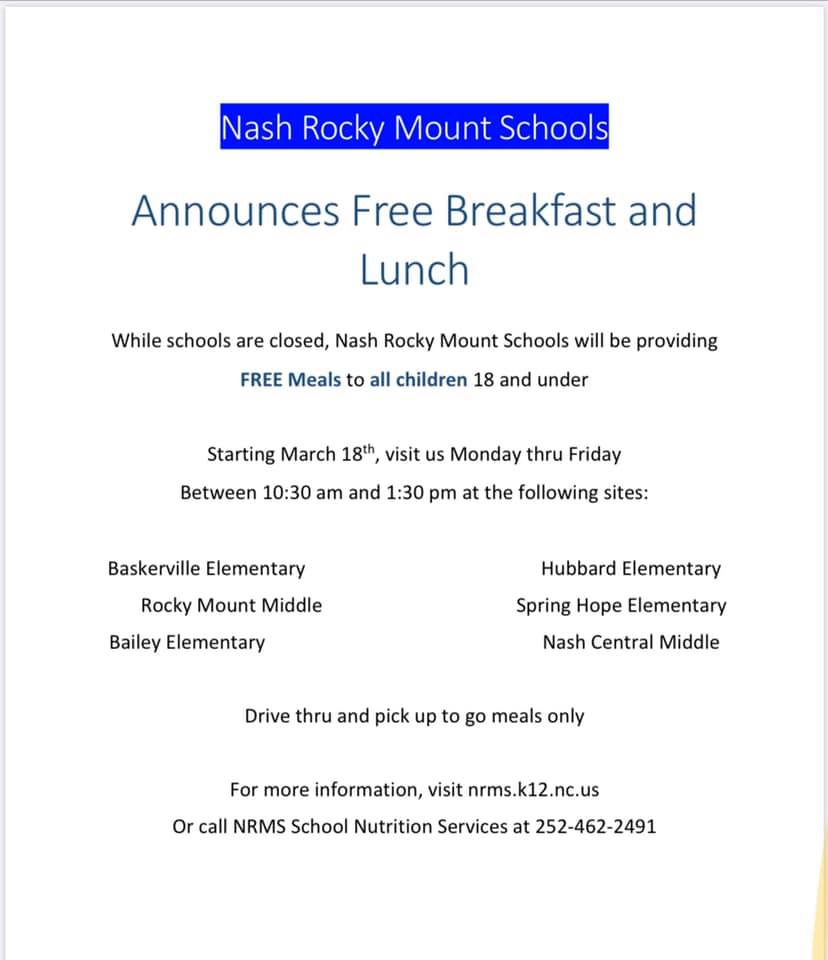 Roy Cooper's issued an Executive Order to close all restaurants and bars for dine-in effective at 5 pm this evening (Tuesday, March 17th).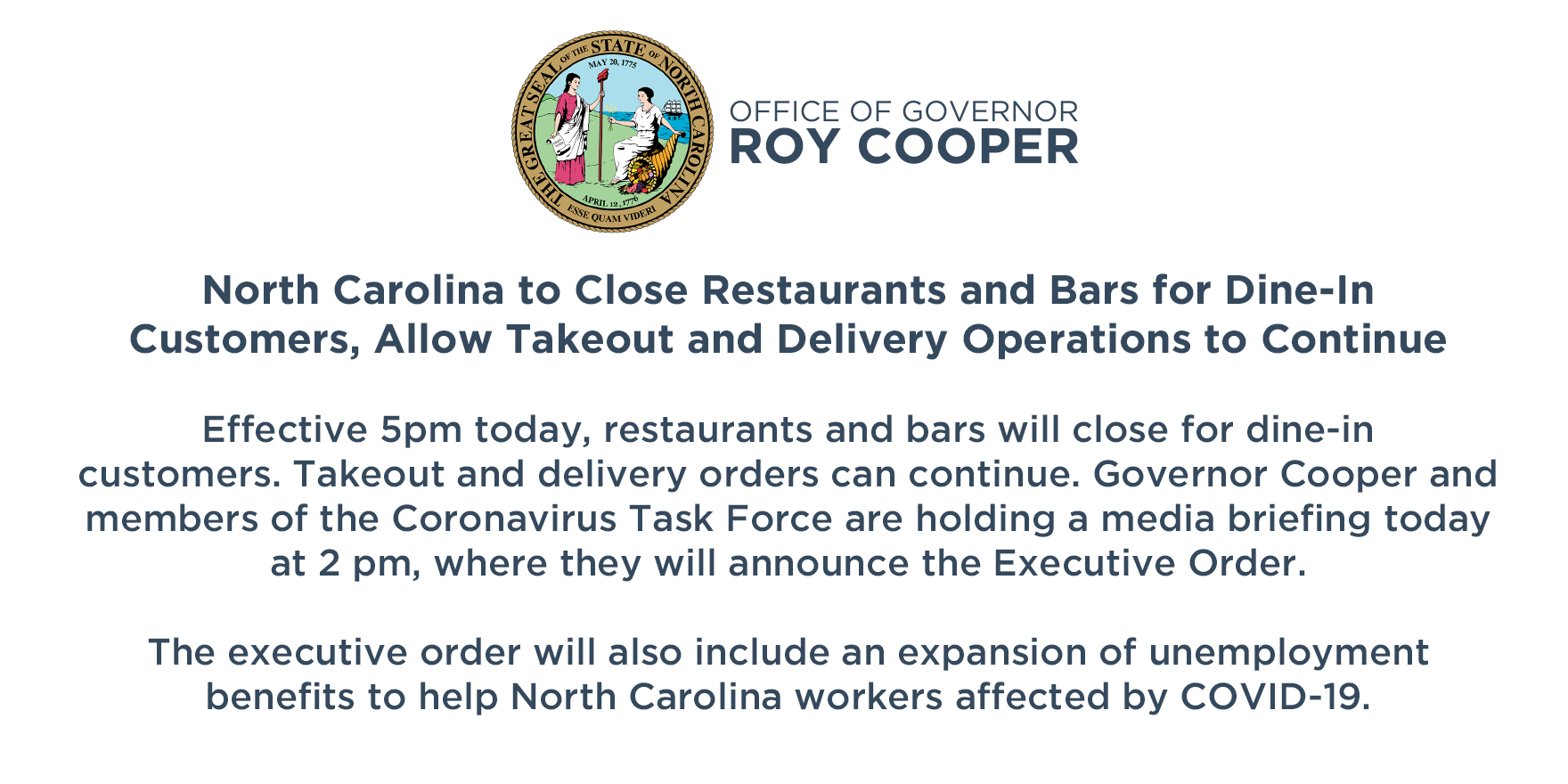 They are able to remain open for take-out and delivery orders if they have those systems in place.  This will have strong implications for our friends in the food & beverage and hospitality industries. Here are some ways we can support our local businesses while also protecting ourselves:
Purchase gift cards for future use to help with cash flow.
Call in pick-up orders and leave a tip.
As many people have noticed, grocery stores are quickly selling out of essential items and experiencing very long lines. Here are a few things you can do to prevent the spread of disease and prepare responsibly:
Purchase a reasonable amount of items you need, considering others who need the same high-demand items, like toilet paper. Stores are working to re-stock items frequently.
Ask elderly neighbors if they need any supplies before running your errands.
If you see an item that says "WIC" of the shelf label, get something else. People use WIC to feed their kids and are unable to switch to another brand. If the store runs out of WIC-approved-options, they will go home empty-handed.
Many non-profit organizations are suffering due to a decline in donations. From a monetary standpoint, people are hesitant to donate because of drastic daily changes in the stock market. Blood donations have also gone down across the board. Here are some ways to help those helping our community:

Donate blood to The Red Cross. "The impacts on the blood supply from COVID-19 will only be as bad as this community allows it to be," said Dr. Robert Rainer, medical director for The Blood Connection. "If those who are feeling healthy donate now and encourage others to do the same, there could be little to no impact — and communities' blood supplies will remain resilient and self-sustaining."
Donate to local organizations providing support. Ripple Effects is a Rocky Mount-based organization that is a one-stop-shop for resource counseling and pointing people in the right direction based on their needs. This group along with others like Peacemakers will be experiencing high-volumes of clients in need during the next few weeks.
Please reach out to madeline@sandyroberson.com with more ideas on how we can support each other during uncertain times.
See the linked survey below about ways you can help your neighbors or request help if you or your family are in need: